Development of the Artisans at Work network in Saskatchewan
Uncategorized
11 April 2022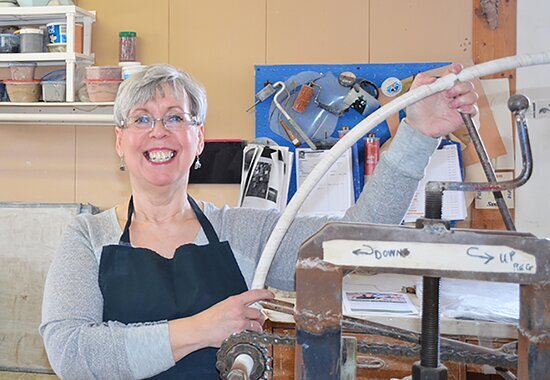 In 2021, the Artisans at work experience rolled out in Saskatchewan, giving two new members the opportunity to join the network!
Ceramic artist ÉCONOMUSÉE® in making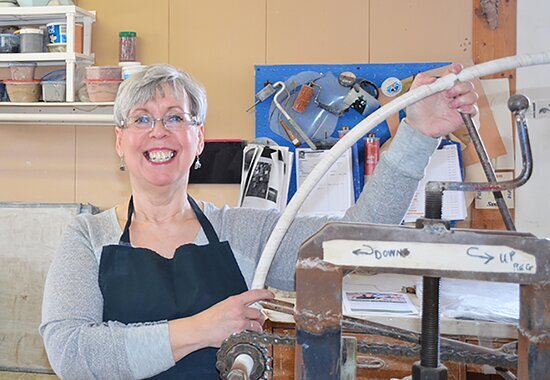 Susan knows how to make you smile in a second, even when you're not a pottery lover. Her drive and passion are completely contagious, and she makes you want to put your hands in the clay from the first moment you meet her.
Made and painted by hand, Susan's pottery is functional as mugs, plates and bowls (tableware); bread pans, pizza pans and quiche dishes (baking); dishes, plates and teapots (serving); and vases, toothbrush holders and soap dishes (home décor). These products are designed to make people smile.
Internationally renowned ceramic artist, Susan Robertson is the ingenious type and possesses a very special technique called hand building. She flattens the clay into a slab which she then places on molds. This allows her to make pottery in large numbers, of high quality and with an identically reproduced design. In love with her environment, Susan creates the patterns herself and paints them on her pottery.
Distillery ÉCONOMUSÉE® in making Barbara and John are two entrepreneurs who have overcome many obstacles to get to where they are today!
Their mission? "Our award-winning spirits embody the best of our terroir, distilling expertise and agricultural skills. With humility and respect for our customers, employees, the environment and tradition, we use our creativity and passion to give people the opportunity to connect by creating distinctly Canadian products and experiences."
Before becoming the proud founders of an on-farm distillery, Barb and John owned a grain farm in rural Saskatchewan until 2010. John began growing flowers to earn money while planning and building the distillery. He was inspired by the bounty of the prairies and what can be grown around him, so he took courses in 2013 to learn the distillation process. He continues to learn from those nearby, and around the world.
The first mashing for the production of vodka and liqueurs, gin and whisky took place on June 20, 2015. The company has since decided to focus on gin and whisky. The distillery officially opened its doors on August 28, 2015.
What sets Black Fox apart is that the company starts the process with raw ingredients. It goes a step further by being involved in the entire distillation process, from grain to glass. They grow the grain, creating their own mash, fermenting and distilling their own spirits, and do not use neutral grain alcohol (bulk alcohol), which is a common practice among many so-called craft distillers. Their appreciation of terroir has deepened, as has their desire to apply their skills in ways that bring them closer to the consumer.
Know-how and unique stories in the province of Saskatchewan that will soon be showcased thanks to the development of the Artisans at work experience and the opening of these two ÉCONOMUSÉE® concepts!