When traditional know-how is combined with modernity in the work of our artisans
Uncategorized
18 January 2022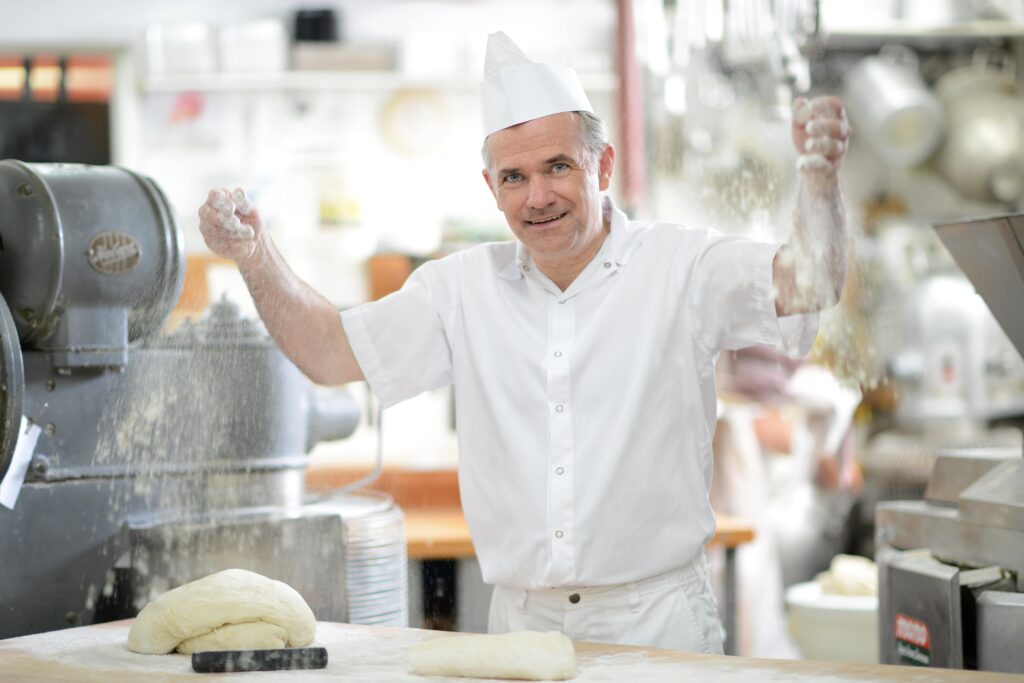 When you enter this bakery, you have no choice but to look at the man who kneads, shapes, mixes and bakes his products. A man who, when he sees you, says hello in a warm way, with a smile, and who makes you feel at home in a few moments. That man is Clément Perron, the owner of one of the oldest bakeries in Roberval, Quebec.
Clément has been a baker and owner of this artisanal business since 1989. Located near Lac Saint-Jean, the bakery is warm and welcoming: a few small Parisian café-inspired tables, good products, a smiling team, and a breathtaking view of the lake from the building's porch. Clément is in charge of the breads, pastries and cakes available in the shop. Passionate, he gets up at the crack of dawn to make his bread in the traditional way, so that everyone can rediscover the good taste and smell of warm bread, just like in our childhood memories. You know, the one that makes you get out of bed on Sunday morning, despite the desire to sleep a little more!
Today, this small company is a success. But did you know that, despite his know-how and years of experience, Clément Perron has had to meet many challenges in order to maintain the high quality of his products? Indeed, artisanal bakery production is subject to various constraints that must be mastered, such as temperature changes, humidity levels, baking time, etc.
To arrive at the quality products you can enjoy today at the Perron bakery, Clément spent hours of relentless research to find the best technical solutions. He went to meet bakers in France in order to understand the traditional way of baking and to obtain a superior result. He learned about high-tech machines that would allow him to keep his ancestral know-how intact while improving his productivity. And you know what, he was able to combine all of this to develop his very own process. Time, consistency and resilience are the hallmarks of this passionate man: it's easy to see why his recipes are kept secret.
If this is your first time at the bakery, don't hesitate to ask questions! Clément will be delighted to show you his know-how, his bakery and his production, to which he has cleverly integrated more modern, less physical and less energy-consuming processes. Then, the visit will certainly make your mouth water, the smell will surely wake up your stomach, so that it will be difficult for you to resist the call of the famous square bread, homemade tarts, or pastries still warm that you can quietly enjoy by the lake with a good coffee.
Want to taste the bread that takes you back to childhood? Meet Clément!